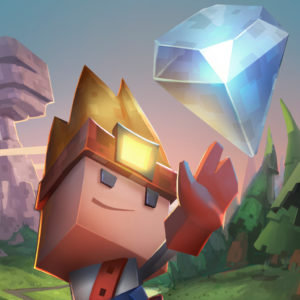 The developer of popular brain training apps such as Einstein™ Brain Trainer, of classic video games like DYNABLASTER™ acquired from First Star Software, Inc. all rights to Boulder Dash®, a pioneering video game for all ages and sexes, to complete its portfolio.
Undoubtedly First Star's best known property, Boulder Dash® and its many sequels continue to delight and challenge casual and hard-core players of all ages and both sexes. As part of the 30th anniversary celebration for Boulder Dash® we launched new exciting Boulder Dash® versions for iOS (iPhone/iPad), Android, and Steam.
---
EARLY HISTORY
Boulder Dash® was first published by First Star in 1984 on the C-64, Apple II and Atari 4/800. After the original Boulder Dash®, the second game, BOULDER DASH® Vol. 2-'Rockford's Revenge'™was combined with Boulder Dash® and published by Electronic Arts as Super Boulder Dash™ on the C-64, Apple II, IBM-CGA and Atari 4/800 from 1986-1987.
The Boulder Dash® Construction Kit™ was published in North America by EPYX on the C-64, Apple II, IBM-CGA, Atari ST and Atari 4/800 from 1987-1988. It was also licensed for sale throughout the world including Europe, Scandinavia, Australia and Japan on MSX, NEC and various disk and cartridge platforms unique to these territories.In 1990, as a result of a license to JVC and a sub-license to Nintendo, JVC released an NES version of Boulder Dash® in North America and Nintendo published NES and Game Boy versions in Europe with Data East selling the NES version in Japan.
In addition Boulder Dash® or its derivatives have been released four times into the coin-operated arcades: twice by Data East (1985 & 1991), once by EXIDY and once by Mastertronics/Arcadia Systems as Rockford™. Mastertronics also published floppy versions of Rockford™ on C-64, Spectrum, IBM-CGA & EGA, Atari ST and Amiga.
---
---