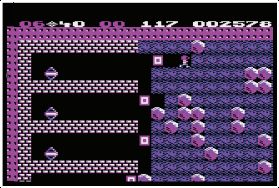 "You can always find traces of the original Rockford in every Boulder Dash"

Richard Spitalny

The two Data East arcade releases are particularly charming, especially Boulder Dash Part 2, which features cute Japanese style graphics with Rockford wearing a mining hat, themed 'worlds' (Egyptian, Ice, Jungle) and even an appearance of the awesome 'Cave M' butterflies versus amoeba encounter from the original game. Many of these elements also made it into Data East's NES version, Beam Software's Game Boy release and Tecmo's Game Boy Advance title Boulder Dash EX, which sported an RPG-like storyline, cut-scenes and bunny-eared player characters. "As technology improved over the decades and graphics became more important, we did push to expand on the character throughout the series," says Richard. "Unfortunately the original Rockford, in the Atari and Commodore 64 versions, was so pixilated that it was difficult to transition that look moving forward. I would have preferred to retain the original look of the character throughout the decades, across all of the many sequels in a more uniform way… for example more like has been done with Pac-Man, but we were not able to do that. However in every game in the Boulder Dash series you will find that we pay homage to the original Rockford. Whether it be a red and white striped top, blinking eyes or a tapping foot, you can always find traces of the original Rockford in every Boulder Dash…"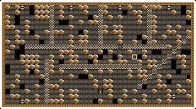 As further instalments of Boulder Dash have continued to be released by First Star through the years, new game mechanics have also been introduced to keep the series fresh. Long-time fan and developer Sasa Skevin coded Boulder Dash ME (Mobile Edition) for mobile phones, and describes some of the additions he made for the 2002 release. "To modernise the game we added new tools to the game like the Magic Hammer to break boulders, the ability to kick boulders long distances to kill enemies, and bombs, as in Bomberman," he says. "We also included a 'rotation' feature where players can rotate a cave to create a totally new environment…" The rotation feature, first seen in Boulder Dash EX, was a particularly clever mechanic, with gravity affecting the boulders as players rotate the screen, opening up new pathways to grab those jewels. Other new gameplay features from recent titles include the ray-guns and dynamite of Boulder Dash: Rocks! and the telescopic arm of Boulder Dash-XL, a release that also includes a female character, a Rockfordette called Crystal.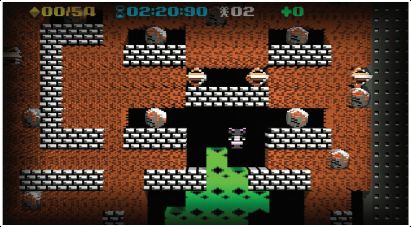 "It was my idea to include Crystal," says Richard. "We did that in Boulder Dash – Treasure Pleasure and Boulder Dash – Pirate's Quest, and in the leaderboards you could clearly see that a lot of players (we suspect female) were playing as Crystal. Women have always been a large part of the Boulder Dash fan base and I wanted them to be able to play as a female Rockford…" Boulder Dash-XL also includes a lovely little nod to Peter's originals in the form of a retro mode, which renders the 'classic' Rockford and Boulder Dash environments in glorious 3D. "With Boulder Dash-XL, the goal was to create a fresh new look while remaining true to the core gameplay and physics. We also wanted to emphasise the puzzle aspect of Boulder Dash so we created Puzzle Mode, where the caves are much more about mental gymnastics, while de-emphasising speed and hand-eye coordination. We also knew all along that we would include a retro mode. There's always a debate about whether or not to include the original caves…" For those pining for a true retro Boulder Dash experience, Sasa recently completed another dream project, Boulder Dash – The Full Collection HD, a compilation of the classic Boulder Dash I and II, with Construction Kit and both ME titles for Android. "We had to make game speed a bit less than it was on the original C64 to accommodate all devices," he says. "But the original Boulder Dash graphics, sound effects and caves are the most popular not only to us, but to many retro players. My favourite game element of the original was the randomness. Caves had so many different ways of completion. Boulder Dash was a game for players that had certain skills like mathematical thinking and fast-action puzzle solving." 
First Star is even catering for retro hardware with the recent limited edition of an Atari 2600 Boulder Dash, with a planned Intellivision release on the way. And dozens of Boulder Dash releases and 30 years after Chris Gray's original inspiration, the company has another announcement to make, exclusively to readers of Retro Gamer. "I started up a company last year, Tapstar Games, focussed on mobile gaming, and thought I'd talk to Richard and see if there was any interest in doing something with Boulder Dash,'" Chris tells us. 
"The thing that has surprised me to this day is the fact that First Star has kept it alive, and it's a pleasure to think that people remember and enjoy the game and even feel sort of protective about it, so I can promise that we are being respectful but trying to make it feel very contemporary." 
With Chris getting the ball rolling on a new Boulder Dash, the first he'd been directly involved in since the 1984 original, he decided it might be a nice idea to involve someone else close to the project. "Peter was twice my age at that point and he had a firm idea what he wanted, and I don't think we always saw things the same way, but that's the way it worked out and I can't complain. It felt it would be nice to see if there was a way to get him involved, and it felt like a nice way to re-engage with each other after all these years. I figured there was an interesting dynamic to be had by working together again, and it's been fun to reunite the band, so to speak."